Background
What should I know before using private listening?
How do I activate private listening?
IMPORTANT: Do not put your headphones on until the volume is at a safe level.
To activate private listening, open the Roku mobile app on your phone or tablet and plug in your headphones. Adjust the volume to a comfortable level and put on your headphones. When you want to disable private listening, unplug your headphones.
You can also activate (and disable) private listening by tapping the headphone icon on the remote screen.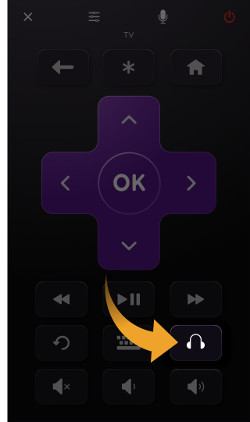 Can more than one person use private listening at the same time?
Yes. If your compatible Roku device is running Roku OS 8.1 or later, up to four mobile devices can be connected for private listening. You can check the software version by visiting System > About on your Roku device.
Note: Private listening by multiple users is only supported on mobile devices running the Roku mobile app. When you connect earbuds, earphones, or headphones to a compatible Roku remote, private listening on all connected mobile devices is disabled. 
Troubleshooting
If you are experiencing intermittent connectivity or hear audio issues, learn how to solve problems with private listening.