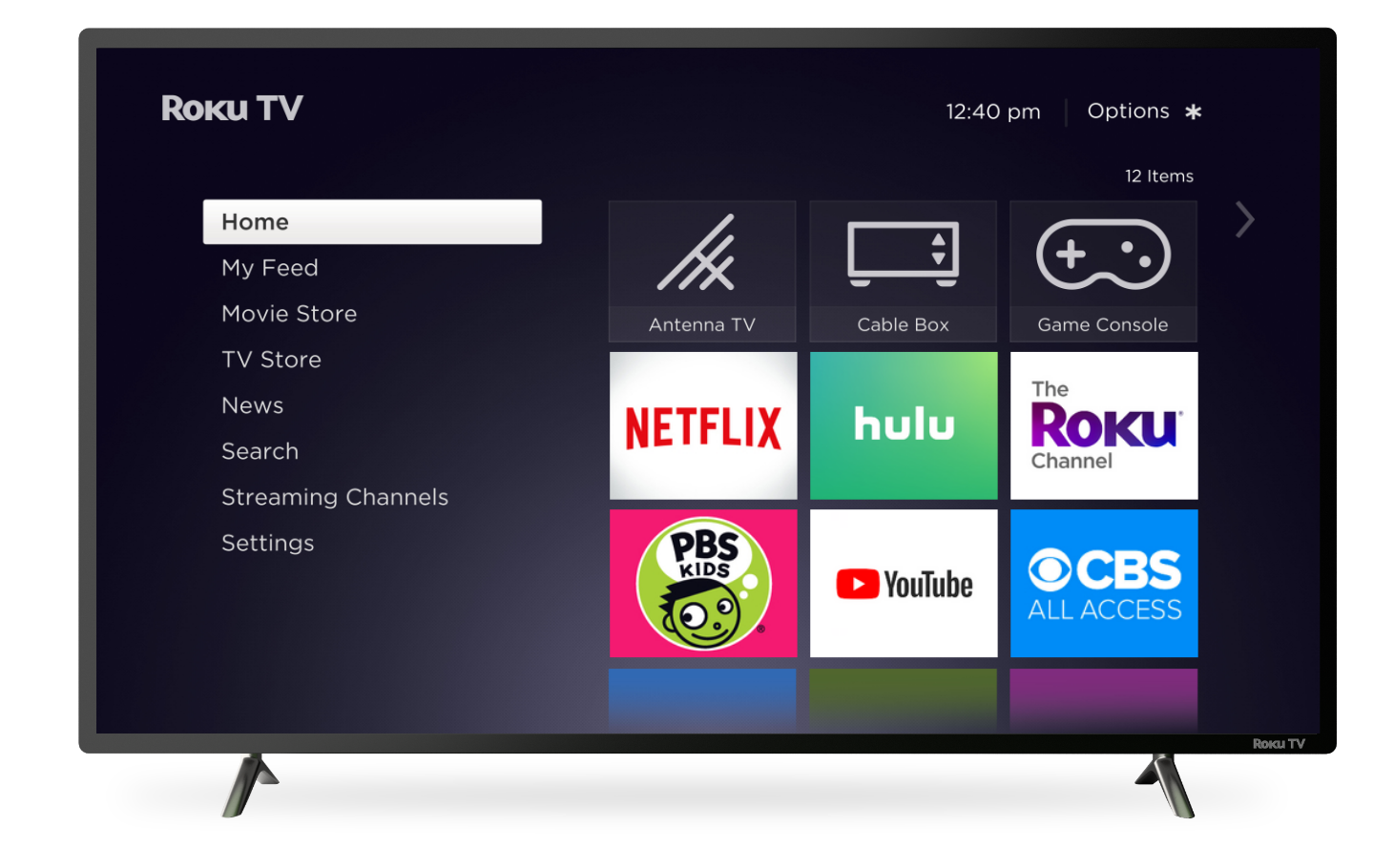 To learn about available models, view a list of smart TV brands offering Roku TV.
Roku TV features
Single interface to access all your devices: The Roku TV home screen makes it easy to switch between streaming channels, the antenna, and your other devices. You can customize the look of each input icon to represent the device you have connected, for example "Cable box", "Antenna TV", or "Blu-ray player".
Simple and easy-to-use remote: With few buttons and a simple layout, the remote control allows you to quickly become familiar with controlling the TV without even looking at the remote.


Note: Remote buttons may vary by TV brand.


Regular automatic software updates: Keep your Roku TV connected to the internet and get new features and streaming channel updates automatically. New streaming channels can be found in the Roku Channel Store.
Voice search and controls: Use naturally spoken phrases to search and control you Roku TV.
Large entertainment selection: Choose from thousands of streaming channels and subscription-based services like Netflix, Hulu, HBO Now, and ESPN.
Built-in tuner: Connect an HDTV antenna and watch free "over-the-air" television broadcasts.
Electronic program guide: Use Smart Guide to help you find "over-the-air" movies and TV shows broadcasting today, in the coming weeks, and over the past week.
Pause live TV: Connect a USB memory stick to your Roku TV and pause live TV for up to 90 minutes.
Find similar shows and watch episodes from the beginning: A feature called More Ways to Watch can provide you with viewing suggestions on streaming channels for the programs you watch on the Antenna TV or HDMI inputs.
Roku mobile app: Use the Roku mobile application for iOS® or Android™ as a remote control, search for things to watch, and send TV audio to your mobile device to listen to streaming video privately.
Add premium sound to your Roku TV
Get more Roku TV answers
In addition to the helpful resources on the Roku website, the support articles below provide detailed information about Roku TV and the many Roku features..
What are Roku TV Wireless Speakers?
Do I need a high-speed internet connection?
Will I be required to have a cable or satellite subscription?
Will I be charged a monthly subscription or rental fees?
Will I be charged for customer service or device activation?
Can I watch movies and TV shows without commercials?
Can I browse the internet on a Roku TV?
Do I need a Roku separate account for each of my Roku streaming devices?
How do I use the Roku Channel Store to access my favorite movies, TV shows and more?
How do I find free movies and TV shows?
How do I find 4K and 4K HDR movies and TV shows?
How do I use Roku Media Player to play my personal videos, music and photos?
How do I block content using parental controls?
How do I enable closed captioning?