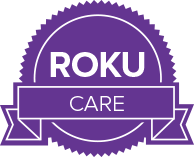 Roku Player Extended Warranty
Eligibility for Extended Warranty
Subject to the additional terms and conditions set forth below, Roku provides this Extended Warranty:
Only to the person or entity that originally purchased the Roku Player ("Player") from Roku or from one of its authorized resellers or distributors; and
Only for Players purchased and delivered within the United States.
Applicable License Agreement Terms
Your use and operation of the Player continue to be governed by the Roku License Agreement which you accepted as a condition of using the Player, except that the following Extended Warranty terms will supersede and prevail over the standard one (1) year Limited Warranty found on the Roku website or on the "Roku Player Important Information Sheet" that comes in the box containing the Player.
Extended Warranty Terms
Roku warrants the Roku Player against defects in materials and workmanship under normal use for a period of two (2) years from the original date of Player purchase ("Extended Warranty Period"). If Roku determines that the Player is defective, Roku will either repair or replace the Player with either a new or rebuilt Player, at its option, at no charge to you. If the Warranty Period has expired or is otherwise not applicable (see Scope of and Limitation on Warranty section below), you are responsible for the payment of all labor charges, parts, and materials, or you may purchase a replacement Product at your own expense. THE FOREGOING SETS FORTH ROKU'S SOLE OBLIGATION AND YOUR EXCLUSIVE REMEDY IN THE EVENT OF ANY BREACH OF THIS LIMITED WARRANTY.
Return and Warranty Service Process
Please access and review the online help resources at support.roku.com before seeking warranty service. To return or obtain warranty service for a Player you must first obtain a Return Merchandise Authorization (RMA) number from a Customer Support Representative (CSR) at Roku. Customer Support contact information can be found by visiting support.roku.com/contactus. RMA numbers expire thirty days from issuance. Roku may attempt to troubleshoot a warranty-related problem prior to issuing an RMA number. Please be prepared to provide additional information upon request. Once an RMA number is obtained, you must ship your Player and all accessories, in either the original packaging or packaging affording an equal degree of protection, to the Roku authorized distribution facility identified by the CSR. Failure to return any of the accessories could result in a delay and/or result in an invoice to you or credit to Roku for the missing accessories.
Scope of and Limitation on Warranty
This Extended Warranty entitles the purchaser to unlimited access to our extensive support services including online help, web form, chat, customer forum and telephone support for the duration of the Extended Warranty Period. Hardware coverage is limited to the replacement of defective units as described in the Extended Warranty section above. This warranty also does not cover any issue related to the service provided by your Internet Service Provider, including but not limited to service disruption, changes in service terms, changes in offerings, changes in format, or technical problems. This warranty does not cover damage due to acts of God, accident, misuse, abuse, negligence, commercial use or modification of, or to any part of, your Player. This warranty does not cover damage due to improper operation or maintenance, connection to improper voltage supply or attempted repair by anyone other than a facility authorized by Roku to service your Player. This warranty does not cover consumables (such as fuses and batteries).
Copyright © 2017 Roku, Inc. All rights reserved. Roku and the Roku logo are registered trademarks of Roku, Inc.