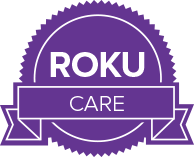 RokuCare Extended Warranty is currently not available for purchase. RokuCare support services are limited to customers who purchased an extended warranty in the past.

Background
RokuCare was designed to provide a convenient single stop for your support needs to complement our available support resources. RokuCare provides installation and troubleshooting support for the configuration of Roku® streaming players in a home environment.
RokuCare features:
Friendly and knowledgeable Roku streaming professionals
Dedicated support access; toll-free phone number and email
Ready when you are – available 24/7
Coverage for up to 2 years from original purchase date
Extended Warranty
A RokuCare Extended Warranty increased your coverage to two (2) years from your original purchase date. If you are covered by a RokuCare Extended Warranty, it includes dedicated free phone support, free hardware coverage, and free shipping on returns for two (2) years from initial date of purchase. Depending on your Roku streaming player model and/or your warranty status, RokuCare Extended Warranty was available up to the end of the original product warranty period.
For more information, refer to Roku Extended Warranty terms and conditions.
Notes:

RokuCare Extended Warranty is not currently available for purchase.
RokuCare Extended Warranty was not available for Roku Express. If you need help setting up your Roku Express, use the resources created especially for this model at go.roku.com/express.
Per-Incident support
If you are outside the original product warranty and not covered by RokuCare Extended Warranty, Per-Incident service is no longer available. Please find setup and troubleshooting articles and videos on the Roku support site.
Terms and Conditions for Rokucare Services
Acceptance of use
RokuCare is an optional support channel. By contacting Roku for services under a RokuCare support plan, you agree to the terms and conditions below which define the scope and delivery of services under the applicable plan.
Description of RokuCare support services
RokuCare support services provide installation and troubleshooting support for the configuration of Roku streaming players in a "typical" home environment. A "typical" environment is where the Roku streaming player is placed into a wired or wireless network, and connected to the internet via an Internet Service Provider (ISP) service.  
Support delivery and response times
Support services are delivered by phone, on-line chat and/or email. Roku will use reasonable efforts to respond to a support incident within the response times defined for the support channel, but do not guarantee that a response will be provided within a specific time period.
Qualifying products
In the past, RokuCare support service plans were available for specified previous generations of Roku streaming player models. The RokuCare Two-Year Extended Warranty must have been purchased during the player's original one-year product warranty period. 
As another option under RokuCare, per-Incident support was available to all customers – customers could pay a one-time fee for support regardless of the product warranty status. 
Scope of service
RokuCare support plans are no longer offered.
Disclaimer
Roku does not warrant that a support incident can be resolved or that any resolution provided will be free of errors, but we will use reasonable efforts to deliver support services under the Service Plan.
Remedy and limitation of liability
Roku's sole liability for any damage incurred by the use of RokuCare support services shall be limited to the actual amount paid by you for the Service Plan. Under no circumstance shall Roku or its employees be held liable for any direct, indirect or consequential damages resulting from the use of the service.  
Privacy
Roku adheres to a strict privacy policy with respect to customer personal data which can be found at roku.com/legal.
Refund policy
Per-Incident service and RokuCare Extended Warranty are no longer available for purchase. The information below is provided as a reference.
Per-Incident service was NON-REFUNDABLE, except where Roku failed to provide a resolution as defined in the Scope of service. RokuCare 2-Year Extended Warranty customers could terminate the service within the first 5 business days of purchasing the service plan. A maximum of 50% of the service plan cost would be refunded, if the service had only resulted in a single incident report. Refunds were returned to the same credit card account used to purchase the service plan.