Background
The 2018 NCAA Division I Men's Basketball Championship begins March 13 with the first full day of games on March 15. Catch all the March Madness excitement on your Roku streaming player or Roku TV™. Refer to the guide below to see who is broadcasting the action of college basketball's big dance.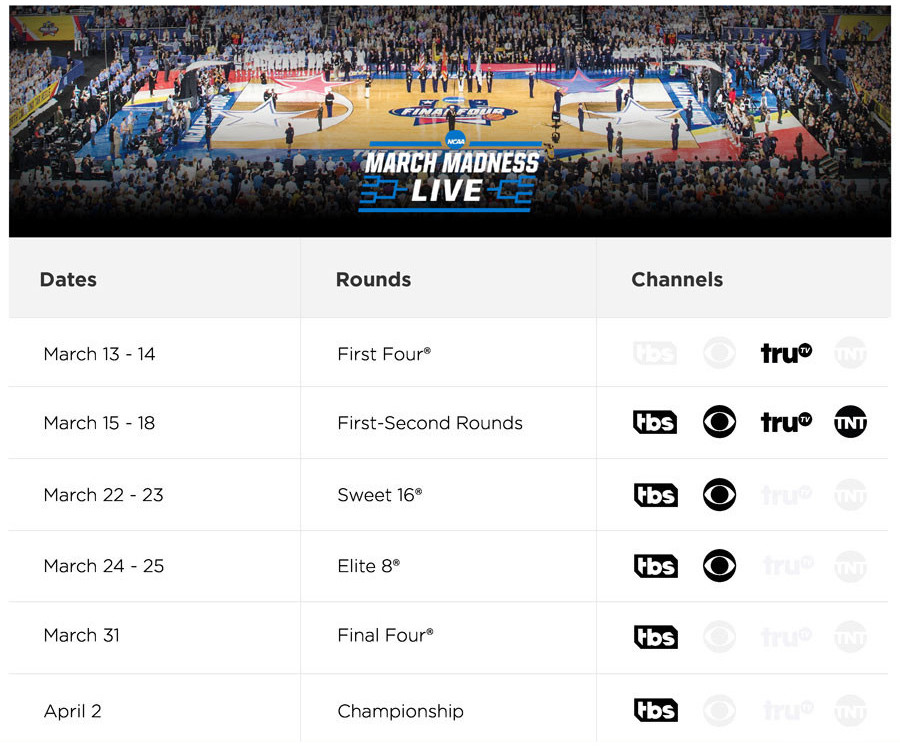 Where can I watch games broadcast by TBS, TNT and truTV?
You can watch games broadcast by TBS, TNT, and truTV on the NCAA March Madness Live channel. After a 3-hour free preview you will need to sign in with your paid cable or satellite subscription.
If you do not have a subscription with your local cable or satellite company, you can still watch games on your Roku device with a subscription to one of the following services.
Where can I watch games broadcast by CBS?
CBS games are available with a subscription to the CBS All Access channel. In addition, CBS may also be available in select markets as part of your subscription to:
Depending on where you live, you may be able to receive CBS games via "over-the-air" broadcast television using an HDTV antenna connected to your Roku TV.
Note: Placement of the HDTV antenna can affect which TV stations you may be able to receive and the quality of the TV signal.
How do I add channels?
If you need helping installing any of the services listed above, learn how to add channels to your Roku streaming device.