Background
The optimal frame rate for 4K is 60fps; however, some 4K UHD TVs only support 4K at 30fps. This can be a problem because some channel providers, such as Netflix, will only play 4K content if the HDMI® connection with the TV supports 4K at 60fps. You may also find that 4K content is not made available within the channel; for example, the "4K row" may not be displayed in the Netflix channel if Netflix does not detect an HDMI connection capable of playing 4K content at 60fps.
How do I know if my HDMI connection supports 4K at 60fps?
Note that the frame rate can be different based on the HDMI port you have used to connect your Roku® streaming player. The frame rate is detected automatically during setup of your Roku player. You can also repeat the detection procedure by going to Settings > Display type. In both cases, you will be presented with a dialog that outlines the capabilities of the HDMI connection: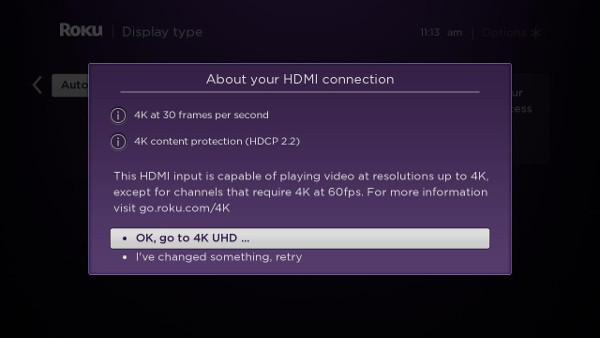 The dialog describes whether your HDMI connection:
Line 1: supports 4K at 30fps or 60fps
Line 2: supports HDCP 2.2 (required to play 4K content)
What should I do?
It is possible that your 4K TV does not support 4K at 60fps; however, some TVs have display settings that can enable 4K at 60fps. On some TVs, the HDMI port can be configured for HDMI 1.4 or HDMI 2.0, and in some cases, the option is global and sets the mode for all HDMI ports. In either case, you should choose HDMI 2.0.
Check your TV owner's guide or TV manufacturer's online support instructions.
In other cases, each HDMI port may be pre-configured differently. Try connecting your Roku player to each of the HDMI ports on your TV and selecting "I've changed something, retry" in Settings > Display type on your Roku player.