Background
If your Roku streaming player is placed inside a cabinet or other enclosed space, especially with other electronic equipment, it may overheat.
"Device too hot" warning message
Your Roku player may display a message saying "Device is too hot. Please move the device to a cooler location", or you may see the following message: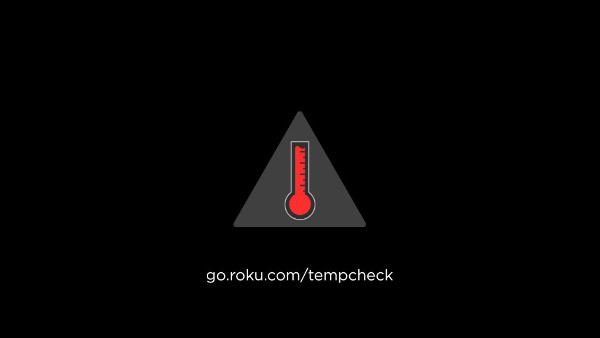 What should I do?
WARNING: Be careful! The unit may be hot.
Carefully unplug the power cable from your Roku player and allow it to cool down.
Find a cooler location for your Roku player; avoid placing the unit:

Inside a cabinet or other closed space;
On top of other electronic devices such as cable boxes, routers, or AV receivers; 
In direct sunlight.

Wait at least 10 minutes for your Roku player to cool down. Once cooled, plug the power cable back in and wait for the Roku player to power-on. If you still see the above message, then immediately unplug the power cable.
Repeat step 3 one more time. If the problem persists, then you should stop using your Roku player.