Background
Before you return, sell, or gift your existing Roku® streaming player, we recommend you perform a factory reset which will:
Erase your personal preferences.
Unlink your Roku player from your Roku account.
Reset all settings and return your Roku player to a state ready for initial setup.
Performing a factory reset from the device settings
Follow the steps below from your Roku player to perform a factory reset.
Press the Home button  on your Roku remote.
Scroll up or down and select Settings.
Select System.
Select Advanced system settings.
Select Factory reset.
Select Factory reset everything and follow the on-screen instructions.
Performing a factory reset using the hardware reset button
On the back or bottom of each Roku player is a reset button. On some players there is a tactile button, while other players have a pinhole button. The reset button on your Roku player will look like one of the following: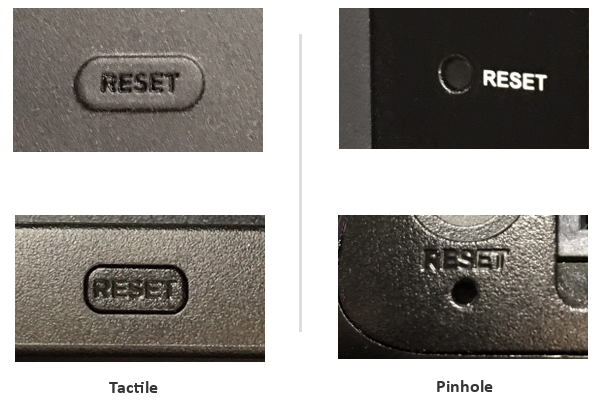 If your player has a pinhole button, you will need a paperclip to perform the factory reset.
Once the reset button is located and your Roku player is powered on, press and hold the reset button firmly for up to 20 seconds. The indicator light will blink rapidly on most Roku players when the factory reset is complete.