Background
Roku marketing emails are carefully crafted to help users get the most from their streaming experience – including tips and tricks, news about new and free channels, exclusive upgrade offers, free subscription trials, and other special offers.
How do I opt out?
To be removed from Roku's mailing list, you need to launch your email application and open a recent Roku newsletter. Scroll to the bottom of the message and click, or tap, Unsubscribe. The link will appear similar to one of the images below.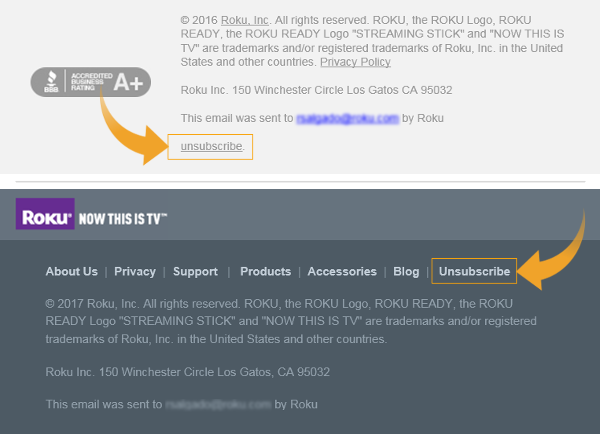 If you do not have a recent Roku newsletter and wish to be removed from the mailing list, submit a request on the Roku support site.
Note: If you unsubscribe from Roku mailing list, please be aware that you will still receive transactional messages, such as important updates about your Roku account (such as billing notices, etc.)
Can I resubscribe?
If you unsubscribe from Roku marketing emails and would like to resubscribe, please contact Roku Support.